A time to reunite and remember...
Any educational institution is known by the quality of its students. HIE takes pride in having a huge alumni database graduated from the institute over a period of two decades. Relationship between a student and his/ her alma mater is a life time commitment.

We are connected with our alumni through our portal and social networking sites like facebook and linkedin. HIE's Intermediate College has initiated an alumni association which conducts regular get together events and student faculty meetings. College activities and events are shared with alumni and their feedback is collected and considered for improvement. Alumni have played a vital role in strengthening the placements arm by providing support to students.
Atar Mohammad Umar Farooq -Pursuing Btech in National Institute of Technology Calicut
"Coming back to HIE was awesome - the beauty, the breeze - nothing has changed.Thank you students and staff for welcoming us back."
P. Srinidhi - Pursuing Btech SVNIT Mechanical Engineering Surat
"I was hesitant on coming back, but the moment i stepped in all the fear vanished. I was overwhelmed with joy. HIE is one of the best parts of my life. Interacting with the Juniors, giving them advice on how to clear exams, just being on campus, filled me joy. I am lucky to have been part of this institution."
Imdad Ali - Pursuing B.E. in Civil Engineering, Osmania University
"I came back to HIE after four months. I felt very happy meeting Kevin Sir who gave us permission to be on campus. We spent a lot of time with the Juniors and staff. Dean Sir and Yousuf Sir gave us many tips on how to be successful in the future. It was a memorable and amazing experience and we are thankful to the Staff and administration for the opportunity."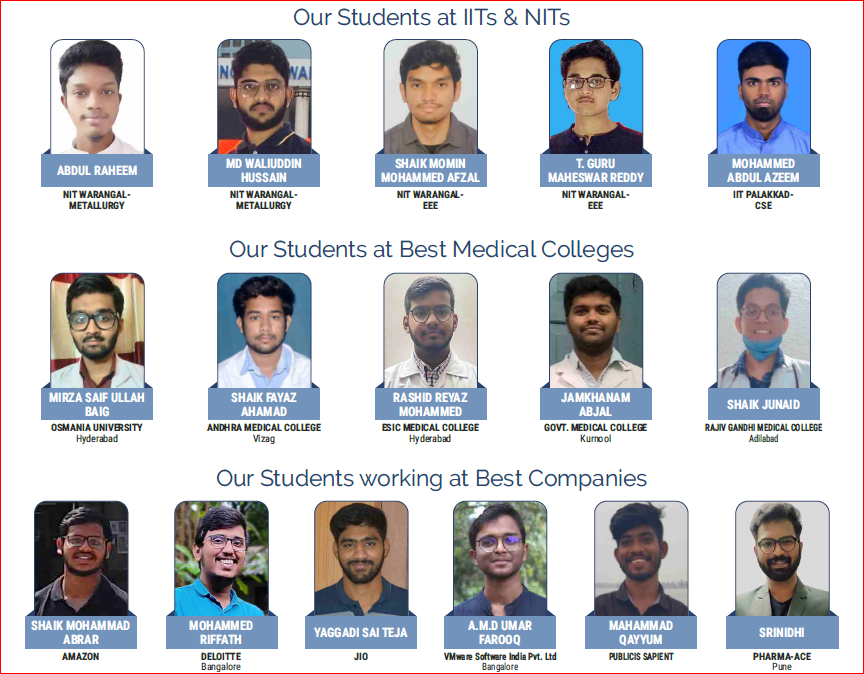 Hyderabad Institute of Excellence organized the Alumni Meet on 6th October 2019 at the Unity Centre Begumpet., welcoming the 1st batch and IIT, NIT, MBBS, BDS and BUMS 2014-19. The alumni meet is conducted every…
The Alumni meet is an event for old relationships to be cherished, celebrated, refreshed and new ones to be formed. It is a time of reflecting, remembering the good old times and memories of the…
Update your present profile and share News
Nominate individuals for the Wall of Honor